Gunny G: BLOGGIN' BAD!~MAKE AMERICA "AMERICAN"! AGAIN!!!!! (FUBO!) BRING BACK AMERICA's HAT! (THAT BAD ASS DEPLORABLE FEDORA!) ~ $H!T-CAN THE STAIN, STIGMA, STENCH AND SHAME OF "THE PRINCE OF FOOLS"~ AND: "FINALLY," ~ BRING THE "POF" TO JUSTICE!, EXPOSE! AINOs (AMERICANS IN NAME ONLY), AND FLUSH THE SWAMP~POWER-FLUSH! "TWICE!"-("FLOATERS" Y'KNOW!) -POTUS .45 TRUMP COCKED and LOCKED!.....-ONE RIGHTEOUS MAN--IF WE CAN KEEP HIM! ~ Illegitimi non carborundum..!
Credit: Brent ScherCredit:
Brent ScherBY: Brent Scher September 25, 2014 2:25 pm
The two Marines who have traveled 300 miles by foot to deliver a message to the White House regarding the case of Sgt. Andrew Tahmooressi reached their destination on Thursday morning and were joined by a large crowd of supporters.Marine veterans Terry Sharpe and Allen Brown rallied supporters in the rain early Thursday morning in Arlington Gateway Park just outside of Washington, D.C, as they prepared for their 21st and final day of walking to the White House.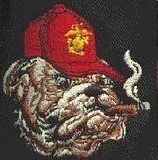 View original post 455 more words